Introduction of the Main Factory Quality policy
Deliciousness thorough quality & hygiene control
FSSC22000
We give food safety top priority, and adhere related laws and regulations strictly, including the Food Sanitation Law.
We are introducing food management system based on FSSC 22000 international standard for food safety management at the Main Factory which is the key point of manufacturing.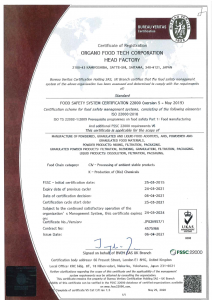 Food Safety Policy
Based on the management philosophy of the Organo Group, Organo Food Tech Corporation will comply with the Food Safety Policy of our company as stated below and comply with it.
1. We will provide "safe and secure" products to our customers and strive to improve the quality.
2. We will comply with laws and regulations requirements related to foods and food safety requirements agreed with customers. Therefore, we will only deal with companies that comply with food safety policy and relevant laws a
nd regulations.
3. We construct and maintain a food safety management system based on international standard FSSC 22000 and continuously improve its effectiveness so that we can always provide "safe and secure" products to our customers.
4. This policy is thoroughly disseminated to all employees and internal communication activities such as food safety and quality improvement training and management reviews will be conducted regularly.
5. Each section sets food safety targets, develops specific policies and reviews them at any time and makes efforts to achieve food safety policy.