Product introductionNattokinase HTNK-J
Useful ingredients of traditional food "natto" in easy-to-use powder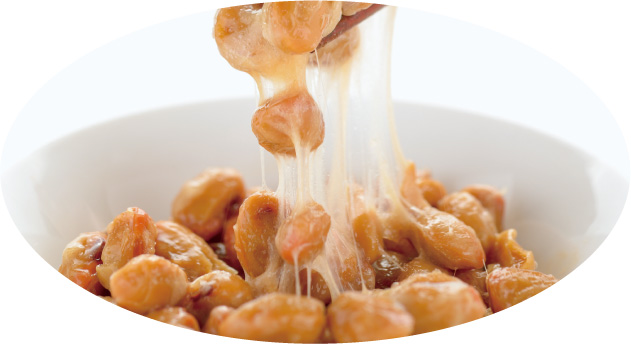 What is nattokinase?

Nattokinase is an enzyme produced by Bacillus subtilis natto. Its functions of acting directly on fibrin which is the main component of thrombus and decomposing (disolving), etc. are drawing attention.
Main type

supplements
Features of Nattokinase HTNK-J
It is a extracted powder of cultivated natto Bacillus containing Nattokinase HTNK-J which is suitable for supplements for people who are not keen on natto.

Having nattokinase activity
GMO free
Animal raw materials free
Reduced natto smell
Vitamin K2 removed
Fibrinolysis
It acts directly on fibrin which is the main component of thrombus and dissolves it.
Fibrin dissolution test by the fibrin plate method


The state in which different levels of concentration of nattokinase HTNK-J was dropped on the center of the fibrin plate.
▶ Mechanism of natto kinase thrombolysis
▶ Amino acid sequence of nattokinase

H2N-Ala-Gln-Ser-Val-Pro-Tyr-Gly-Ile-Ser-Gln-Ile-Lys-Ala-Pro-Ala-Leu-His-Ser-Gln-Gly-Tyr-Thr-Gly-Ser-Asn-Val-Lys-Val-Ala-Val-Ile-

Asp

-Ser-Gly-Ile-Asp-Ser-Ser-

His

-Pro-Asp-Leu-Asn-Val-Arg-Gly-Gly-Ala-Ser-Phe-Val-Pro-Ser-Glu-Thr-Asn-Pro-Tyr-Gln-Asp-Gly-Ser-Ser-His-Gly-Thr-His-Val-Ala-Gly-Thr-Ile-Ala-Ala-Leu-Asn-Asn-Ser-Ile-Gly-Val-Leu-Gly-Val-Ala-Pro-Ser-Ala-Ser-Leu-Tyr-Ala-Val-Lys-Val-Leu-Asp-Ser-Thr-Gly-Ser-Gly-Gln-Tyr-Ser-Trp-Ile-Ile-Asn-Gly-Ile-Glu-Trp-Ala-Ile-Ser-Asn-Asn-Met-Asp-Val-Ile-Asn-Met-Ser-Leu-Gly-Gly-Pro-Thr-Gly-Ser-Thr-Ala-Leu-Lys-Thr-Val-Val-Asp-Lys-Ala-Val-Ser-Ser-Gly-Ile-Val-Val-Ala-Ala-Ala-Ala-Gly-Asn-Glu-Gly-Ser-Ser-Gly-Ser-Thr-Ser-Thr-Val-Gly-Thr-Pro-Ala-Lys-Tyr-Pro-Ser-Thr-Ile-Ala-Val-Gly-Ala-Val-Asn-Ser-Ser-Asn-Gln-Arg-Ala-Ser-Phe-Ser-Ser-Val-Gly-Ser-Glu-Leu-Asp-Val-Met-Ala-Pro-Gly-Val-Ser-Ile-Gln-Ser-Thr-Leu-Pro-Gly-Gly-Thr-Tyr-Gly-Ala-Tyr-Asn-Gly-Thr-

Ser

-Met-Ala-Thr-Pro-His-Val-Ala-Gly-Ala-Ala-Ala-Leu-Ile-Leu-Ser-Lys-His-Pro-Thr-Trp-Thr-Asn-Ala-Gln-Val-Arg-Asp-Arg-Leu-Glu-Ser-Thr-Ala-Thr-Tyr-Leu-Gly-Asn-Ser-Phe-Tyr-Tyr-Gly-Lys-Gly-Leu-Ile-Asn-Val-Gln-Ala-Ala-Ala-Gln-COOH
Safety test
Various safety tests are conducted, confirming the safety

Oral administration
to rats
Reverse mutation test using bacteria
Chromosomal aberration test using mammalian cultured cells
Product specification value of nattokinase HTNK-J
▶ Product specification

· Nattokinase activity of 20,000 FU / g or more
· Loss on drying 10% or less
· Heavy metal (as Pb) 40 ppm or less
· Arsenic (As 2 O 3) 4 ppm or less
· Aerobic Plate Count 3,000 units / g or fewer
· Escherichia coli negative
▶ Estimated daily intake

Please take 100 mg (2000 FU) as a guide
Functions of nattokinase
▶ Angiography before and after the administration of nattokinase
Nattokinase was orally administered to an animal of thrombosis (subject). As a result, a complete re-opening of the blood vessels was confirmed 5 hours after the administration.
Angiography before and after the administration of nattokinase
▶ Change in blood marker after the administration of nattokinase
Nattokinase extracted from natto was administered orally to healthy adults. As a result, fibrin resolution (EPA), fibrin degradation product (FDP), tissue plasminogen activator (t – PA) are found to be increased.
Changes in thrombolysis after the administration of nattokinase